The Competition
We installed Pergo Prodigy in three rooms around the beginning of 2002. Prior to that we had installed a similar floating floor (Versastrip) in our kitchen, dining/living room, and upstairs hallway. The Versastrip is real wood and wins the wood-look-alike contest, but the Pergo looks pretty darn good and you can't beat the ease of installation and durability.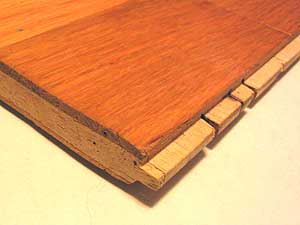 What follows is a brief description of VersaStrip and Pergo Prodigy along with some side-by-side comparisons.
This photo shows a section of VersaStrip. That's the "tongue" edge of the board. Normally the other edge would either be a tongue or groove but this is trimmed section.
The VersaStrip flooring is topped by 1/16th of an inch hardwood veneer. So it has a nice look to it and, according to the documentation, could be re-finished if one were skilled and careful. Not sure I'd want to try that, but it is an option.
The flooring was packaged in bundles of six slats, each slat 72 x 7.5 inches. The brand name is VersaStrip and it cost $52 for a 14.88sq ft box at Home Depot. You also need to separately purchase backing foam and glue.
Installation was straight forward. You put down the foam padding first, using tape to hold it in place. Starting at a wall you start laying the stuff out, keeping a 1/4 inch shim (expansion room) between it and the wall. The slats get a thin bead of glue for the tongue and groove before you push them together. You use a hammer and a spare chunk of wood (or pry bar in tight locations) to bash them together. Literally.
You need to be quick as once the glue starts to stiffen it is hard if not impossible to make fine adjustments. This is really a challenge when doing the last row or working in a tight space like a hallway. Once it's pounded firmly together you take a wet rag and wipe up the extra glue which has oozed out. I found it better to clean everything up as I went along rather than attempting to do it later when I was burned out and everything was completely dry.
Overall the flooring looks nice and has held up well. Heavy furniture will scratch or dent it and exuberant dogs will also scratch it. I've noticed a little separation between slats and sub-boards during the dry winter months. Sunlight also discolors it as we found when moving a large oriental rug last fall.