New Recipe
---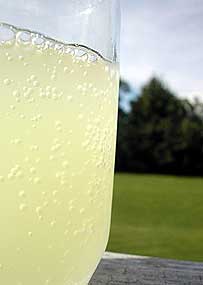 This is my latest recipe for Ginger beer and it is a winner. There's a ginger and cayenne bite to it and the other spices add enough subtle flavor to round things out nicely. Just the thing after a long bike ride home.
Here's the approximate recipe:
fist sized ginger, juiced or sliced up
tablespoon peppercorns
cinnamon stick
teaspoon fennel seeds
teaspoon cardamon seeds
tablespoon cloves
dash of cayenne pepper
two cups sugar
teaspoon cream of tartar (optional)
yeast
1 gallon or so of good water
The recipe preparations are pretty much the same as with the first recipe. You might want to let the water simmer for a while to extract more flavor from the spices.